Happy Spring Friends! This season ShakeyGround Farm is off to an exciting new beginning. In early April, Dave welcomed me to the farm as the new Farm Manager and I couldn't be more thrilled.
During my pre-teen and teenage years I spent summers throwing hay and mucking stalls for a family friend in New Hampshire and confidently told my parents that I'd "be a farmer someday." Despite that aspiration, when I graduated from college I began traveling down a professional path in Sales and Marketing. Eight years later I found my way back to the land.
These past two and a half years I've had the pleasure of working just across town as the Caretaker for a small private farm and the new Philo Ridge Farm. Although my previous professional history had offered me few skills consistent with property management, livestock care, landscaping, or gardening, I dove in with an enthusiasm for the experiential education the role could and did offer.
As I began to develop my understanding of pasture management through intensive rotational grazing with the goal of improving soil, animal, and consequently community health, I yearned for a more proactive role in caring for livestock from conception through harvest. Additionally, as the unlikely "Farmstand Florist" at Philo Ridge Farm, I realized a passion for flower arranging and wanted to explore the ins-and-outs of professional flower farming.
These interests and passions led me to ShakeyGround and the opportunity to grow with the farm on the strong foundation that Drew and Brittany have built here during the past six years.
This year I'll aim to deliver to you the same superior organic produce, pastured chicken and eggs, and grass-fed lamb and beef you enjoyed from ShakeyGround Farm in past years. Additionally, I'm working on diversifying our fiber products, filling our farmstand with flowers, offering new veggies and fruits, and providing a welcoming space for you and your families to visit and learn from.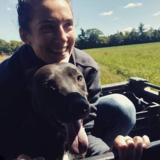 I'm so looking forward to meeting you,